Welcome Back to School! Principals Message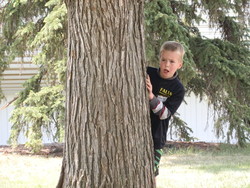 Welcome back to another exciting school year!  I'm pleased to take this opportunity to welcome you and your child(ren) to our school.  A good learning experience is built on a cooperative effort between parent, child and teacher. 
Our expectations for academic growth are high, and I know that your child(ren) will experience a very successful and rewarding year if they remember our school motto, "Reach Higher…Go Further"  With your participation in and out of the classroom, we can look forward to a productive, creative and fun year together.
The key areas of focus for the upcoming year are as follows; continued focus on integrating technology in the classroom and implementing GAFE (Google Apps For Education), RTI (Response To Intervention) ensuring students' academic levels are at grade level or higher by the end of the year in Numeracy and Literacy. We continue our efforts in creating and maintaining a Safe and Caring and positive school environment.
We have extended our RTI work this year. We have created our school wide timetables in such a way that we will be providing additional support to students when they are/or have not mastered a given learner outcome. We have created a plan that has classes organized in such a way that we can have intervention time with students to help them be successful. We will be offering additional learning experiences to those that are not in intervention time. This will look like extra activities in Science, Technology, Engineering and Math. If you have an interest in any of these areas and would like to work with staff at the school creating interesting, engaging learning opportunities please, contact us.
Again, I look forward to a rewarding and challenging year.  I hope that we can work as a team to make it one of growth, discovery and significance for your child as well as a fun year filled with questions, new experiences and lots of learning!
K. Holtby
Principal
Terry Fox Run 2015
On September 30th, 2015, the students and staff of Falun School, along with numerous parents, participated in 'The Terry Fox Run' and enjoyed a day of fun and activities.
This year the students raised a total of $4001.00! WAY TO GO!
Top 3 classes:
| | |
| --- | --- |
| Grade | Total by Grade |
| 1 | $1247.00 |
| 2 | $595.00 |
| 3 | $593.00 |
 *Falun School is the longest participating school in the Wetaskiwin Regional   School Division. We just celebrated our 21st  year!
 Since 1995, we have raised $59,291.51 for the Terry Fox Foundation for cancer research. AMAZING!
 Our top student fundraisers were Joel in Grade 6, and Kadance and Samantha in Grade 1 raising $200.00 each. The top family was Makenna, Emersyn and Kamryn in Grades 5, 3 and 1 with a total of $416.00. Way to go! They will be receiving prizes for their awesome work and dedication.
 We are very proud of our students and their families for all that they have accomplished for such a good cause. We hope to see you all again next year!
Division News